Hello,
I'm having a few issues with Alpha Station and Node Red with the new PMS V3. I'm using the latest version of Alpha Station and the NCD nodes in Node Red (Running on Win10 PC).
I was able to configure the sensors using Alpha Station V 1.0.2.7 by using the 'Basic Settings' button only. No data showed up in the datagrid before or after configuration. Using the new version V 1.0.2.13 there was still no data in the datagrid but I couldn't get into Config Mode using either config button. I tried multiple times with multiple sensors. This holds true for all 4 of my PR55-61PM_BTR's.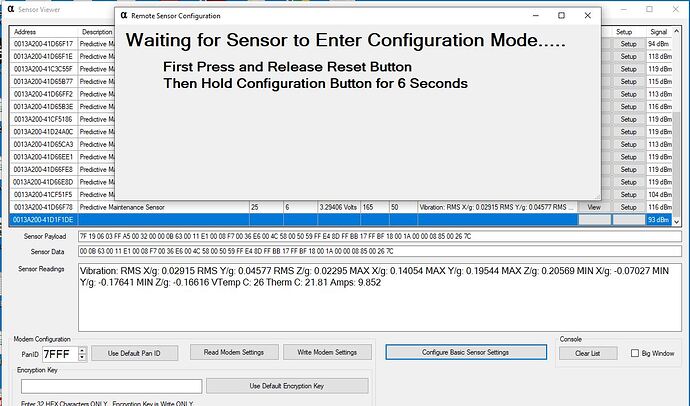 Here is the configuration I did with the older version of Alpha Station. I'm pretty sure it stuck because I was able to read it back after I wrote it. This screenshot was taken about an hour after I initially set it and restarted Alpha Station 1.0.2.7. As I mentioned I couldn't even get into config to get a read in the new version.


In Node Red the new sensors show as running but I am not getting data from them, not in the database or even using the Debug node.


Thanks in advance for your help!