Hello,
I have just installed several vibration/temperature sensors at the factory of one of my customers.It is the V2 model with FFT analysis and time domain. The sensors have all been reseted once installed on the machines to perform calibration.
The sensors were configured as accelerometers (mg). As we need to set up threshold alarms according to ISO10816, I use the following conversion equation to convert the values to velocity (mm/s) :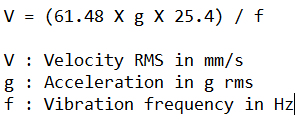 Here is an example in Node-Red of the values obtained by one of the sensors (in mg). The Z axis is the significant axis in this case: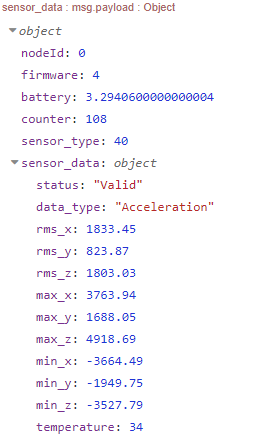 If the conversion formula is applied to this value, a velocity value of 47 mm/s is obtained, which is impossible according to the ISO standard.
To be sure that the conversion equation is not the cause of the error, I also read the values of one of the sensors with the Labview utility application. I got similar results, if I convert from in/s to mm/s
Last point, I use a 900HP-S3B Long Range Wireless Mesh Modem with USB Interface gateway to transmit the data to the data processing computer. In Node-Red, I use ncd-gateway-node to acquire the data from the sensors.
Can you help me find out what's causing the problem. I've been running tests for two days now with no results.
Thanks
Bert