Hi. I'm currently trying to control the A2D ADS7828 on the PR2-7 board using the PR33-17. I'm sporadically getting the 0x5e timeout/chip did not acknowledge error code as defined here: https://ncd.io/serial-to-i2c-conversion/. This seems to only occur during the reading of the sampled value back from the chip. I never run into it when setting the command byte. Based on the documentation
A fixed timeout is hard-coded into the firmware. Should a chip exceed this preset timeout, you will receive an Acknowledgement error.
May I ask what is that timeout? I've been unable to capture a trace of the failure since I can't consistently reproduce it. However, I did notice that there is a delay (what appears to be clock stretching?) by the master sending an ACK or NACK back to the chip after the read. See attached scope capture. I assume this is normal behavior? I'm also confused why I'm getting the error during reads of the A2D, when the master should be the one sending the ACK of the data read back.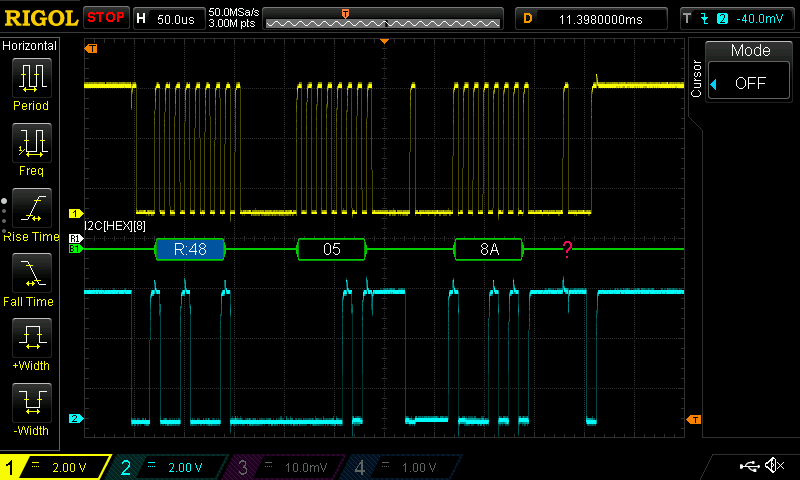 I was also trying to see if I can exacerbate the issue by increasing the I2C bus frequency. Using Alpha station to configure the I2C port speed to 400kHz, it appears to write successfully to the EEPROM and I can load it back even after loss of power. However, when I send anything over the bus, it continues to send at 100kHz. I've tried other frequencies and none of them seem to affect the actual speed.
Any help with why I might be getting the 0x5e timeout and why configuration isn't working would be greatly appreciated. Thanks!