Hello everyone,
I have two I2C bus extenders (https://store.ncd.io/product/p82b715td-long-distance-i2c-bus-extender-i2c-mini-module/) that are sitting on a control panel and the other end of these two extenders are about 7 and 10 meters from the panel going to Junction Boxes (JB). The 8m is on a CAT8 cable (with outer shield and pair shields) and the 10m is on a Cat6 cable (no shielding at all).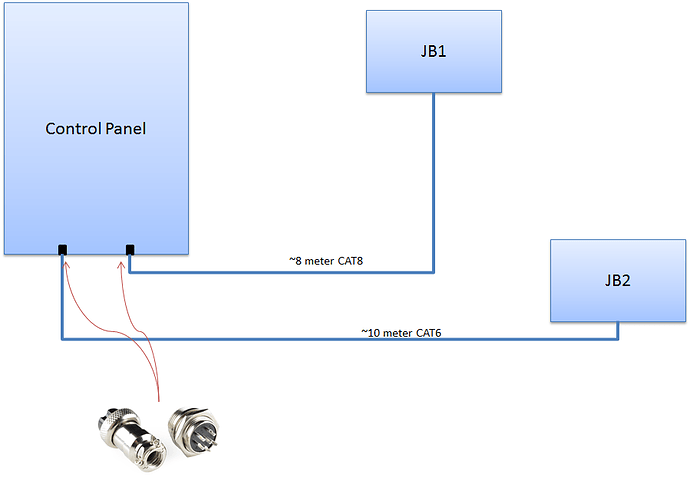 On the control panel, I have a 6-pin chassis connector. Inside the control panel is CAT6 for both of them with direct connection to the extender.
On both sides of the connection I have several I2C devices so I am using multiple I2C Cross-Over Adapters.
The pull-up jumpers are ON on both sides.
Now, the issue is with the communication reliability. When I connect my I2C devices over a short distance (directly on the panel), I receive the signals perfectly. However, when the I2C extender is in between, I do get a lot of losses and sometimes I am unable to communicate at all.
Few additional notes:
The communication loss is mainly on the 8m link, the other link is quite tolerable.
The communication loss on the 8m link was previously on CAT6, but due to the horrible response it was replaced with CAT8 hoping to improve the situation but with no effect.
Apologies if this is too long, but I tried to give as much information as possible.
Any advise to solve this issue?
Thanks and Regards,
Moath