Hi,
What products do you recommend to measure the power coming into the power distribution panel for a 240/120 VAC Split Phase Service? I live in Canada.
I would like a 6 channel module to measure 3 voltages and 3 currents.
See attached image.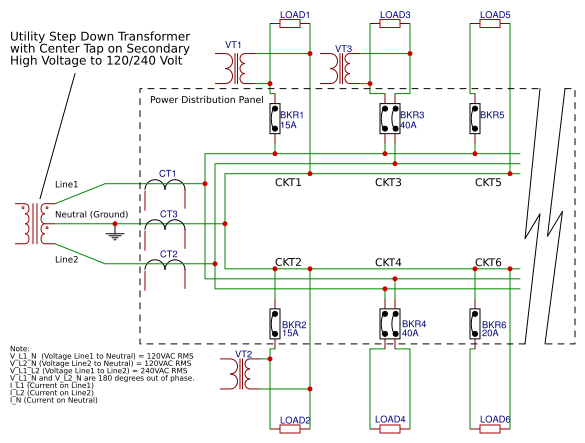 For this type of panel, some suggest using 2 Current Transformers (CT1 and CT2) and 2 voltage transformers (VT1 and VT2), however that assumes the loads across L1-N and L2-N are equal. If the loads are not balanced, and that is probably 99% of the cases, then there will be some current flowing in N (Ground) back to the transformer. This is a source of error that can be eliminated with a 3rd CT and 3rd VT.
Do you have any products that could support 6 chanels for 3 CTs and 3 VTs ?
Thank you
-Mark