Hi,
I currently have an I2C Shield for Arduino Uno: https://store.ncd.io/product/i2c-shield-for-arduino-uno/
a 1-channel 4-20 mA Current Loop Receiver 16-Bit ADS1115 I2C Mini Module:
an Arduino Uno
and a flowmeter: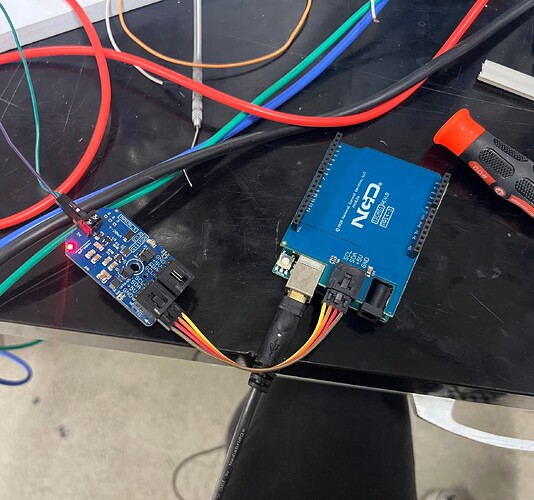 I purchased this flowmeter from EBay and want to test that it works. It outputs 4-20 mA, hence why I've purchased the shield and current loop receiver. I have connected the flowmeter (which isn't shown in the image, which is powered by a power supply also not shown in the image) to the 1-channel current loop receiver and connected this to the I2C shield. The green wire is ground and the purple wire has the signal, which are both in their respective places in the current loop receiver.
I used the code mentioned here:
Reading 4-20mA Current Loop Sensors using Arduino - NCD.io and generally followed it for the wiring/connections.
However, both when I have nothing flowing through the flowmeter and when I have liquid passing through, the output I get is 0 mA. I'm aware that when I have nothing passing through, the current should be at 4 mA. I'm wondering if the issue I'm having is related to my wiring of the system, the components I'm using, or the actual flowmeter itself.
Let me know if any part of this explanation needs clarification, better images are needed, etc. Thanks for your help.