Hello, I am using the 8-ch I2C 4-20ma input board and am encountering seemingly random communication errors. The two MCP3428s are jumper configured to be 0x68 and 0x69, and this does show up with i2cdetect (on Raspberry Pi 4) but along with other addresses that aren't on the bus. Only this card is on the I2C bus. You can see an example of the variability in the repeated i2cdetect pings here: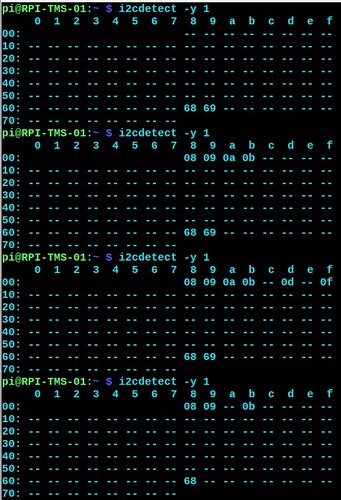 This card is connected to the RasPi via an NCD NodeLynk adapter. I've tried removing the pull up jumpers on the card, but the error worsens to not detecting 0x68 and 0x69 at all, and only showing the excess initial addresses. (Something I've seen when not properly pulled up) Jumper configuration can be seen here: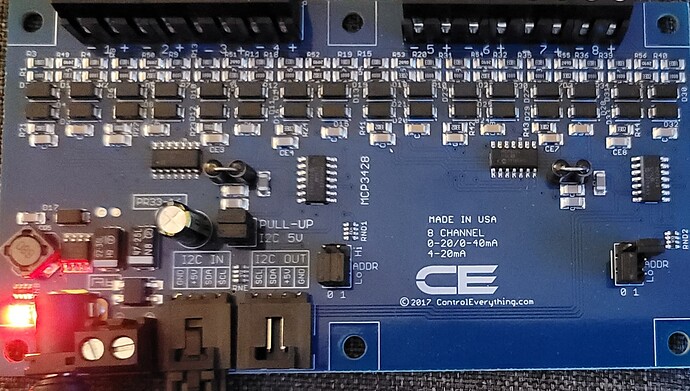 When swapping out this card with the 4-ch I2C relay module, its (0x20) address is properly, exclusively displayed. Swapping out with a duplicate 8-ch 4-20ma card (configured for 0x6A and 0x6B), the same address errors continue. Running any software (say, to collect measurement from one channel) only randomly succeeds, but often failing with an SMBus I/O comm error - the same I see when a device is not found on the bus. It seems someone else may have experienced
A Similar Issue with the MCP3428
but this topic was unresolved. Any thoughts on what could be causing this issue?
Thanks in advance