Hi,
I am seeing an issue on two of the edge computers (running Node Red) we are using to receive sensor data.
I am seeing duplicate sensor data message coming into the gateway, which is then being duplicated on Ubidots. Sometimes the data comes more than twice (I've seen up to 6+ identical messages!).
This issue has been going on for a while, and has happened again with the new edge computer and sensors we have just received.
For example, I have a 1-channel current sensor that's setup to report every minute (higher frequency for testing purposes right now). Here is what I am seeing in the debug window of node red: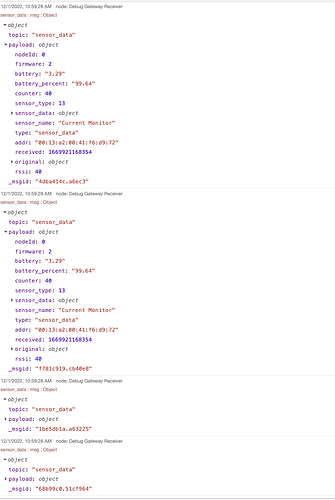 As you can see, there are multiple identical messages being delivered to the edge computer, which in turn upload to Ubidots. The only difference is the _msgid.
Have you seen this happen before, and do you know what the cause of this could be? Would I need to filter out the duplicates before sending to Ubidots?
I have ruled out Ubidots or any functions for processing the data to send to ubidots. This is occuring directly at the gateway reciever.
Thank You!