I'm trying to connect an IR temperature sensor (PC151MT-0) to the PR33-10 as in the following picture, but when I follow that connection, I don't get a good result (~0.07mA)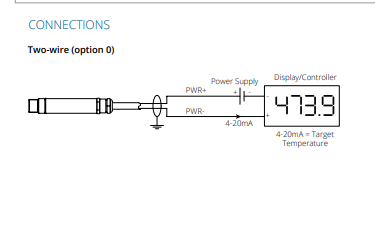 If I omit the external power supply I do get the results.
What would be the correct way to connect multiple sensors with external power?
Additionally, I've noticed differences in the measurements based on which channel I have the sensor connected to. If I leave the inputs floating, I get the following:
In1: 0.034mA
In2: 0.051mA
In3: 0.174mA
In4: 0.072mA
And with the temperature sensor I get the following differences:
In1: 5.531mA
In4: 5.489mA
These differences of 100uA or less shouldn't be an issue for the measurements but I just want to confirm that this is expected.