Hi,
I have setup two 2 Channel Thermocouple with a MQTT gateway sending the data to Ubidots.
On the Ubidots side, I am receiving basic data from each 2 Channel Thermocouple Device, but there is no actual temperature data for each thermocouple channel couple coming through (thermocouples are physically connected for both channel).
The type (23) appears to be correct.
See below for a snapshot of what I am receiving from each of the 2 Channel Thermocouple devices: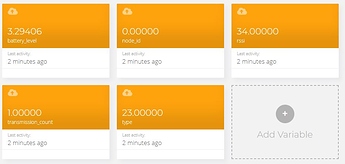 Any suggestions?
Thanks you.