Hello,
I have installed multiple PR55-21 MQTT gateways and it appears the sensors are switching between the gateways.
I started out with one gateway (80 mill) and had multiple sensors everthing was fine. Then i installed a sensor behind HHT and only had 25% signal (1000 ft away) and i would lose transmissions periodically. So i installed a second gateway a few hundred feet away from the HHT.
When i look at my data, esp. signal strength, from the sensor i see oscillation from 100% to 25%.
So to confirm sensor was jumping between gateways i powered down the first gateway.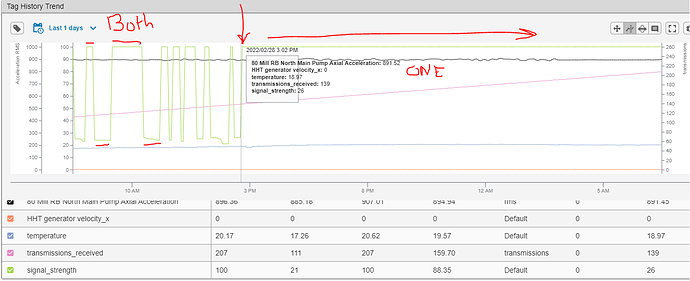 How do i keep my sensors from jumping between gateways?
Why would the sensor jump from 100% connection to a 25% connection?
Can we get MQTT tags from the gateway to show status?
I would like to know which nodes are connected and status of the gateways overall health.
Mel