Hello NCD:
Thanks for the shipment of my order received today. Unfortunately there is a problem. Item 1, ZADR45PROXR_PLUGGABLE, Industrial Relay Controller 4-Channel SPDT + 8-Channel ADC, is different from the unit specified in your website picture, https://store.ncd.io/product/industrial-relay-controller-4-channel-spdt-8-channel-adc/, and different from my original device for which this is a replacement. Specifically, the connection bars (black in color) are attached offset from the board edges. This makes the unit too wide to fit into the specially designed aluminum box for my application. The pictures on your website show green connectors attached within the width of the board, which is identical to my original. See the photos below.
Can you manufacture a unit identical to your website photo so it will fit my application? Please call me to discuss a way forward.
Thanks – Rex Parker 609-306-1480
Your unit on left, my original on right.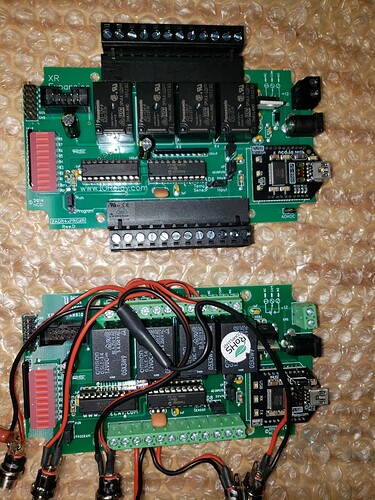 The unit you provided will not fit into the special aluminum box for my application because of the black connectors position on the board.